DISCOVER GOLD - TAKE A GOLD TREK
---
TENNESSEE GOLD MAP
GOLD IN TENNESSEE - GOLD MAPS FOR GOLD PANNING, METAL DETECTING AND PROSPECTING. GOLD MAPS ARE GREAT FOR GOLD PANNERS, GOLD METAL DETECTING, GOLD PROSPECTORS, ROCK HOUNDS, CAMPERS, HIKERS, AND GEOLOGIST. THE LOCATION AND MINERAL OCCURRENCE OF GOLD FOR THESE SITES CAME FROM EXTENSIVE RESEARCH OF THE TENNESSEE DATA FILES FROM THE U.S.G.S. DOCUMENTS. (MRDS FILES) GOLD MAPS INCLUDE GPS DATA AND WERE PREPARED IN THE AREAS OF TENNESSEE IN WHICH THE MOST OCCURRENCE OF GOLD HAS BEEN FOUND AND ARE LISTED BELOW.
There is still gold in the creeks and streams in Tennessee. . The best chance to find Gold in these creeks and streams, placer deposits, and near old mines and prospects, is to know where the occurrence of gold has been found. Before you dig or pan for Gold you will need a map to show you where to look. These Gold Maps provide you with past gold mines, placers and prospect sites. The venture will be interesting and challenging. When you do make a Gold find it will be very exciting. In the past, it was not uncommon for one to find 1 to 6 ounce nuggets in the streams and placers. Those days may be gone, but with some luck and a lot of determination you may find some gold or even a gold nugget.
TENNESSEE GOLD MAP
A typical sample of the gold maps taken from a portion of the Gold map from the Charlotte, North Carolina Vicinty Gold maps is shown below.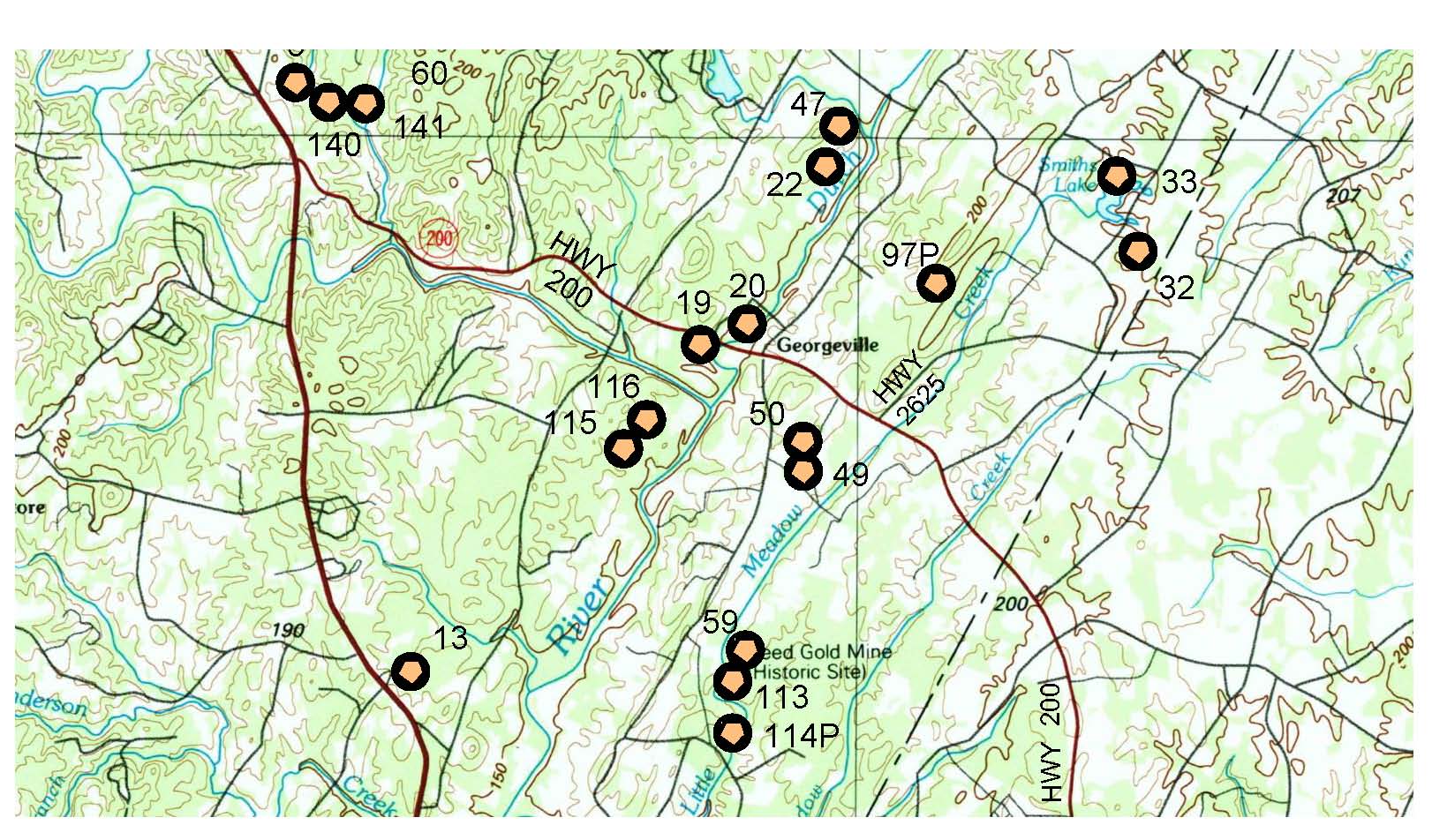 ---
The gold sites are noted and shown with a numerical number next to each site. These gold sites represent where gold has been found in the past. The number is referenced to a north latitude and west longitude point. These are GPS points that you can use to find the gold sites in the field. The gold sites are shown adjacent to access roads and streams. The sites are plotted on a USGS topographic map which shows the contours of the land. A 'P' next to the record number shows were placer gold deposits have been found.

Recreational Gold panning is allowed within the National Forest.
---
---
GOLD MAPS INCLUDE
Full Color USGS Topographic Quad maps at 1:100,000 scale.
Gold in streambed information and Placer Gold information.
Gold maps clearly show location of gold sites on the maps so you can find the sites.
GPS record numbers shown by each gold site.
Roads,streams and creeks enhanced for clarity.
Contours, parks, cabins, landing strips, and more shown.
Gold maps size are 24" x 36"
GPS points allow field location of mines and placers.
GPS points allow use by google maps to show aerial view of sites.
Gold sites are plotted on water resistant paper.

---

TESTIMONIALS

Thank you so much for the superb high-quality maps. Keep up the great work - I will be back for more - Jeff M.
Ah thank you very much again great map worth every penny. Mick B.
Tom, I got the maps today Friday, They Look Great... Thanks, Bill and Linda
GREAT Maps !!! Will order more later...you put a ton of work into them especially GPS numbers. It was money well spent...-Tom V.
Hi Tom, Yes we did receive the gold maps and we are very pleased with them. Thank you again! Linda.
Hello HH, I sent an email yesterday from this address also wondering about my maps. I received them last night and am very happy with them. Thank you for your prompt service and great product. I appreciate it. Sincerely, John L.
Thank you very much.Better than I expected. We will be doing business again in the future.Mike T.
Thanks for the quick reply ..... I am impressed with your package. Thanks again. Don
Tom .... the maps are fantastic. Greg M.

---

---

INDEX OF GOLD MAPS FOR SALE

PLEASE CLICK THE COKER CREEK, TENNESSEE GOLD MAP TO SEE MORE DETAILS OF THIS VICINITY MAP.

The cross hatched areas shows the gold maps that are for sale in the state of Georgia and Tennessee.

The gold vicinity maps, as shown in the index above, provides a table of the number of official recorded gold sites found in the gold maps and shows the towns and cities located in the gold map.

---

History - As a result of the gold find of a 17 pound gold nugget in Little Meadow Creek, in 1799 prospectors rushed in to the areas around present day Charlotte to find gold. Placer gold was found in the creeks and streams thus leading to the gold mines including Reed mine. The boom lasted until around 1820's and 1830's. When gold was discovered in California in 1849 the prospectors packed up and headed west to find their dream.

---

---

Please click below to find the price of the gold map

*** PRICES OF THE GOLD MAPS and REQUEST GOLD MAPS ***

Gold maps will be mailed via U.S. mail.

---

*** GOLD PANNING SONG ***

Check out this gold panning song!! To down load it go to Spotify or ITunes and enter Gold Panning Song Tom Hansen in the search box.

---

To see a list of other gold maps available in other states, click on our website below

*** GoldTrekMaps.com ***

To see the gold site on google earth goto the following link:

*** TOWNSHIP RANGES FINDER ***

Enter the gold site's latitude and longitude GPS coordinates (Which are furnished with the gold maps) in degrees in the VIEW box and click and the Township,Range, Section and Meridian will be shown on the screen. If you want to see the actual current ground aerial view of the gold site you entered, click the FLY TO box.

For additional information please email us at GoldMaps@hhengineering

H & H Engineering is a reputable firm established in 1984. If you are not satisfied with the gold maps, please return them and we will refund your money less the cost for shipping and handling.

These gold maps show so much map data, that besides the gold sites, you can use them to navigate and plan for fishing trips, camping trips and hiking.

FOR YOUR NEXT VACATION - DISCOVER GOLD - TAKE A GOLD TREK.

THESE GOLD MAPS SHOW 1000'S OF GOLD SITES.

H & H Engineering.

GoldMaps@hhengineering.com